We are currently reviewing our 2024 graduate programme offering, roles will be advertised on this webpage when they go live
Why our Graduate Scheme?
If you're looking to build a career with the UK's market leading investment company but aren't sure which business area you want to specialise in, then this is the scheme for you. You'll have the opportunity to influence your rotations based on your own preferences and gain an industry leading qualification along the way. Alongside taking ownership of your work, you'll also have the opportunity to join our employee network groups, support our local community, and take two paid days to volunteer each year. Find out more about our corporate social responsibility.
The two–year scheme is focused on your growth and development, and outside of your rotations, opportunities are readily available. This can come in the form of side projects, joining networks and taking part in career development sessions. Last year, our graduates developed and executed a company-wide initiative to encourage colleagues back to the office. This involved organising locally made confectionary, social events and kickstarting the HL raffle. A number of our graduates sit on the committees of networks, helping to drive inclusion and diversity at HL. If this interests you, get in touch.
Video transcript
The words "HL Careers Graduate Scheme" appear on screen
The words "What's it like to work at HL?" appear on screen, Fiona Mu speaks to camera:
"Hargreaves Lansdown is a very welcoming and warm environment. Everybody is so friendly and always willing to go the extra mile for you. There are so many opportunities to get involved in things such as sports, socials, volunteering, employee networks and projects which challenge you and support your personal development."
The words "How has HL supported your career development?" appear on screen, Oren Henry speaks to camera:
"HL has given me great access to a number of successful senior leaders within the financial services industry. These leaders have guided me towards opportunities to learn and have offered mentorship that has helped massively with my development as a professional."
The words "What do you enjoy about the graduate scheme?" appear on screen, Charlie Williams speaks to camera:
"For me, the most enjoyable part of the scheme has definitely been the rotational nature. I'm about to walk into my fifth rotation and each business area has been completely different. Together, this has given me a breath of understanding of not only the investment platform industry, but also how different teams work together to a common objective. Working in areas outside of my rotation, such as side projects has also helped develop my learning."
The words 'What advice would you give to students who want to apply to the graduate scheme?' appear on screen, Ben Chapman speaks to camera:
"Be yourself, understand your strengths and define key skills you'd like to develop through the scheme. The rotational nature of the scheme means that each graduate has the opportunity to shape their own unique path. Demonstrating an understanding of why the scheme is right for you and how you would like to develop through the scheme is a great place to start."
The words "Why should others apply to the graduate scheme?" appear on screen, Tara Clee speaks to camera:
"The opportunities to grow and shape your career path are unparalleled. Many schemes are quite rigid and offer limited career prospects, but HL's program opens the door for many future roles. Our previous graduates have joined roles across Product, Finance, Investments and Fund Research, Marketing and HR, to name a few. If you're wanting to explore the various areas of HL - you have the opportunity."
The words "To find out more and apply please visit hargreaveslansdownjobs.co.uk" appear on screen.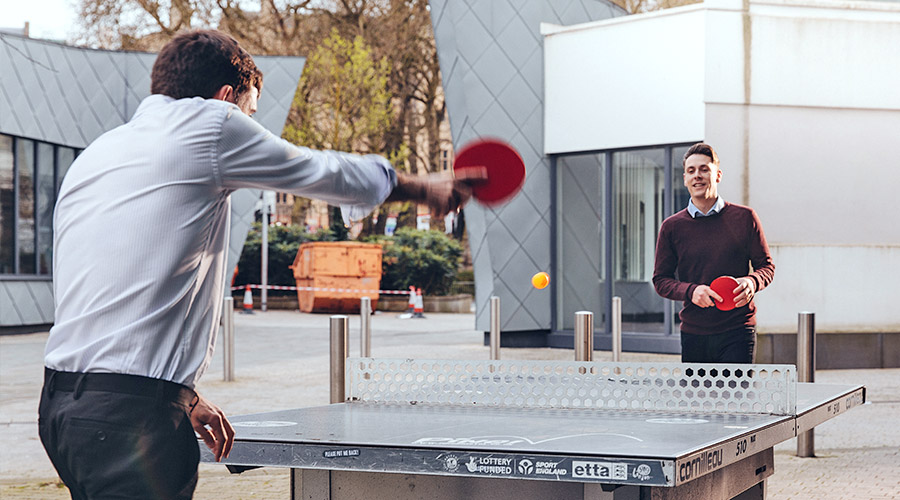 What's our Graduate Scheme?
A two year, bespoke, rotational programme focused on building diverse talent based in our head office in Bristol. Our scheme offers flexibility and allows you to take control of your career from the outset, with no two journeys the same. If you're interested in building a career where you can make an immediate impact, then our graduate scheme could be for you. You'll have the opportunity to work across the organisation, deepen your understanding of our clients, the investment industry and HL as a whole.
What we're looking for on the HL graduate scheme
Starting out in your career can be difficult. That's why we strive to be as inclusive as possible by focusing more on the individual than the background.
We're looking for talented people just like you - who are eager to learn, have ambition and enthusiasm and bring a diversity of thought to HL. If you want to make a difference and develop to your full potential, then we're looking for you.
We want our graduates to bring different experiences, skills and knowledge. It's these differences that allow us to learn, grow and drive HL forwards.
You'll need a 2:2 degree or above, in any discipline, from any university.
No matter the path you choose, during the 2 years you will:
Have a tailored induction

Develop soft skills through workshops and training

Have a previous graduate as a mentor and a senior coach to support you

Work closely with senior leaders and stakeholders to deliver key projects
Gain a professional qualification (CII Level 4 Diploma in Regulated Financial Planning)

Gain an in-depth understanding of HL and how it works

Have opportunities to support your career development at HL

Discover where you want to specialise
Hear from our programme coaches and sponsors
Graduate questions and answers
Graduate journeys
On the graduate scheme, you rotate across a number of different departments. After starting your journey on the Investment Helpdesk everyone's journey becomes unique to them. Below are two of our graduate's journeys from their first rotations up to their last.

Investment Research
Helped to manage relationships between our investment team and financial advisers. This involved coordinating and running of seminars and webinars for advisers.
Workplace Solutions
As part of the sales team I focused on utilising data and reaching prospective clients. I also worked with our marketing team running social media campaigns, events for potential clients in London and producing articles to educate employers on the importance of pensions.
Digital Product
Part of an agile squad, looking at improving our client journeys and facilitating user research to improve our understanding of current and future client's needs.
Learning & Development
Delivering and facilitating colleague training sessions and inductions. To further support colleague develop I launched our internal mentoring programme and presented on the success of it to the wider People Team and some of our HL Networks.
CSR
Looked at aligning our CSR work to the UN Sustainable Development Goals. This involved attending external seminars, research and redesigning our CSR website page to demonstrate our commitment as a business to the wider community.

Client Insight
Learnt the coding language SQL and the data I produced was used to better understand client's needs and help departments make data driven decisions. Part of this work included presenting findings to senior leaders.
Investment Research
I focused on understanding our client's appetite for different investment products. This involved extensive market research and facilitating client focus groups. Also worked with the HL Select team to analyse stocks and research companies.
Change
Investigated and developed our approach to Change management, and presented potential initiatives to the senior change team. I also helped coordinate the delivery of our annual operating plan.
Technology Strategy
Supporting and coordinating the development of the technology strategy and communicating this to key stakeholders including those in our Bristol office and to our colleagues in Warsaw.
Digital
Part of an agile squad, learning about agile methodology and improving our client journeys. Involved running user research and working with third parties.
How many rotations will I do on the scheme?
Graduates will complete 6-8 business wide rotations across the 2-year programme. All graduates start their Graduate Scheme with a rotation in one of our Service Departments to give you an in-depth understanding of our systems, processes and our clients.
Do I have to have a finance background?
No, we accept applications from graduates of any discipline and any University as long as you have achieved or are expected to achieve a 2:2 or above. We are looking for people with a range of experiences and skillsets. We are an inclusive employer and encourage applicants from all backgrounds. If you're excited to work for us, we want to hear from you.
I haven't graduated yet, can I apply for the scheme?
Yes, if you are in your final year at University and on course to graduate with a 2:2 or above you can apply. You will begin your Graduate Scheme in September 2023.
Where is HL based?
Our office is based in Bristol in the City Centre.
Does HL sponsor visas for international students?
No, unfortunately this is not something we offer currently.
When would I be expected to start work?
Successful applicants will start in September 2023.
What qualification will I study for with the scheme?
CII Level 4 Diploma in Regulated Financial Planning
How many graduates does HL take on each year?
Our scheme is a 2-year, bespoke, rotational programme focused on building talent. It offers flexibility and allows you to take control of your career from the outset, no graduate journey is the same. Therefore, we recruit for 5 places each year and focus on developing that talent.
Are there opportunities to travel with the job?
Hargreaves Lansdown is a Bristol-based firm, although you may have the opportunity to travel across the UK or to our office in Warsaw dependant on your rotation.
What is the process like for internal candidates?
We welcome internal colleagues to apply for our Graduate Scheme. The application process will be the same as external candidates, with applications opening from early October.
If you have a question that isn't covered by any of the above, or need any further information, please contact us by emailing EarlyCareers@hl.co.uk